Hampton – In Motion at Boo Williams Sportsplex
In Motion Physical Therapy at Boo Williams Sportsplex operates as a department of Mary Immaculate Hospital.
In Motion at Boo Williams Sportsplex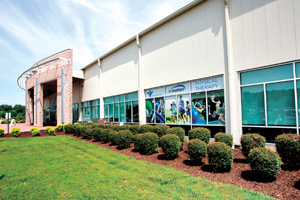 Boo Williams Sportsplex
5 Armistead Pointe Parkway,
Hampton, Virginia 23666
Phone: (757) 224-4601
Fax: (757) 224-4618
View map and get directions
Hours
Monday – Thursday: 6am – 7pm
Friday: 6am – 4 pm
Appointments available within 24  – 48 hours.
Programs
Sports specific programs include basketball, football/combine

Personal Training
Strength and Conditioning
Women's Sports Injury Prevention
Staff
Our team of clinician/athletes customizes and adapts protocols to individual needs. Trust them to improve your game and keep you playing strong and healthy at every age.
Certified Strength & Conditioning specialists
Licensed Physical Therapists and Licensed Physical Therapist Assistants
Registered Dietitian Sports Nutritionist
Eric Clark, ACSM Personal Trainer
Sports Performance Coach